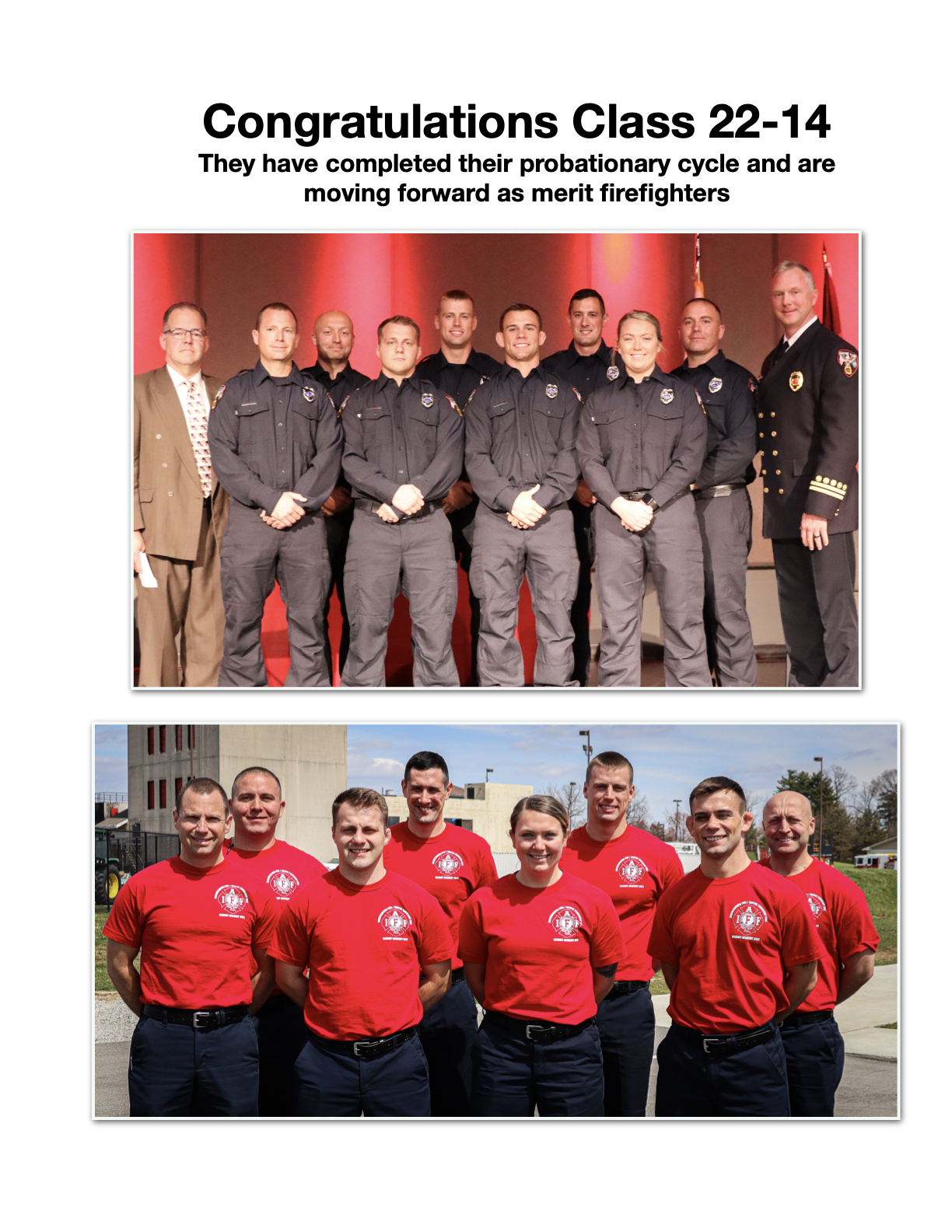 #WTFD celebrates Michael Griffith for graduating from the 2023 IEMS Paramedic Class. After being an EMT for nearly four years, Mike chose to further his education and career by becoming a Paramedic. We are proud of Mike and his dedication to providing the best emergency medical care to the citizens of Wayne Township.

WTFD Promotes New Officers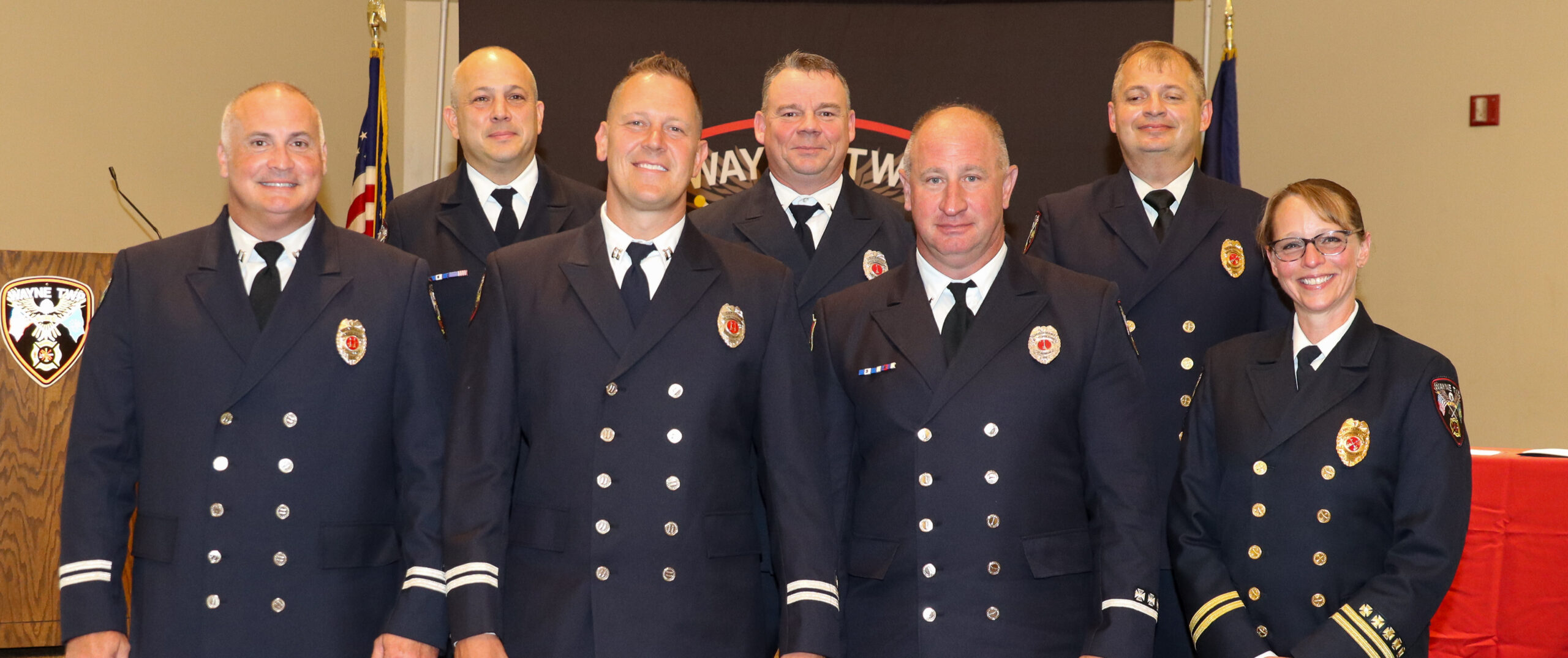 Wayne Township Fire Department congratulates our recently promoted merit officers.
Battalion Chief Pedro Caceres
Batallion Chief Felicity Morgan
Batallion Chief Justin Sparks
Captain, Matt Boone
Captain, Michael Phillips
Lieutenant Tom Prose
Lieutenant Chad McCollum
A formal ceremony took place July 26, 2023, at the Grand Hall event center on the west side of Indianapolis. The new officers had their badges pinned by a family member and were formally sworn in by Fire Chief Marcus Reed.
Engine 84 from the inside.
WTFD Implements New CPR Device
WTFD Swift Water Training
Memorial Video for Richard "Hank" Potter
---
The Wayne Township Trustee maintains a Community Calendar, which highlights community events throughout all of Wayne Township. Please visit this great resource for more information about what is going on in your community.
September 2023
Monday
Tuesday
Wednesday
Thursday
Friday
Saturday
Sunday

8:00 am

– 10:00 am

Bridgeport Lodge 162 All You Can Eat Breakfast

8:00 am – 10:00 am

Bridgeport Lodge 162 All You Can Eat Breakfast

8:00 am

– 10:00 am

Clermont Lion's Club All you Can Eat Breakfast

5:00 pm

– 7:00 pm

Pints for Park - Shelton Heights Park!

6:00 pm

– 7:00 pm

Eagledale Neighborhood Association meeting

6:00 pm – 7:00 pm

Eagledale Neighborhood Association meeting

6:00 pm

– 8:00 pm

Language Assistance Program's Annual Family Night

2:00 pm

– 3:30 pm

Community Listening Session

2:00 pm

– 6:00 pm

Speedway Chocolate Walk

11:00 am

– 1:00 pm

Hope Team Meeting

4:00 pm

– 6:00 pm

Wayne Township's Food Giveaway Drive-Thru

6:00 pm

– 7:00 pm

IMPD Northwest District Meeting: Scam Presentation

8:00 am

– 5:00 pm

Old Speedway City Neighborhood Association Annual Community Sale

8:00 am

– 5:00 pm

Old Speedway City Neighborhood Association Community Sale

11:00 am

– 5:00 pm

Clermont Lions Club Festival

7:00 pm

– 10:00 pm

Outdoor Movie Night

8:00 am

– 3:00 pm

Kick for One 2023 Kickball Tournament

8:30 am

– 11:00 am

White Lick Creek and Vandalia Trail Alliance Bike Ride

4:00 pm

– 6:00 pm

Speedway Hometown Parade

11:00 am

– 2:00 pm

Eviction Sealing Clinic

12:00 pm

– 4:00 pm

Community Pop-Up Event

5:00 pm

– 7:00 pm

Speedway Public Safety & Service Community Day

8:00 am

– 9:30 am

West Side Chamber Meeting: School Superintendent Forum

8:00 am

– 2:00 pm

Cruisin' with Cops Car Show

11:00 am

– 2:00 pm

IMPD Northwest District Community Day
October 2023
Monday
Tuesday
Wednesday
Thursday
Friday
Saturday
Sunday

5:00 pm

– 6:30 pm

IMPD Southwest District's Commander's Walk

5:00 pm

– 7:00 pm

Taste of Speedway

6:00 pm

– 7:00 pm

Eagledale Neighborhood Association meeting

6:00 pm – 7:00 pm

Eagledale Neighborhood Association meeting

8:00 am

– 10:00 am

Bridgeport Lodge 162 All You Can Eat Breakfast

8:00 am – 10:00 am

Bridgeport Lodge 162 All You Can Eat Breakfast

10:00 am

– 3:00 pm

Speedway Fall Fest

11:00 am

– 1:00 pm

Hope Team Meeting

12:00 pm

– 3:00 pm

Anti-Bullying & Suicide Summit

2:00 pm

– 4:00 pm

Shelton Heights Trick or Treat Trail
November 2023
Monday
Tuesday
Wednesday
Thursday
Friday
Saturday
Sunday

6:00 pm

– 7:00 pm

Eagledale Neighborhood Association meeting

6:00 pm – 7:00 pm

Eagledale Neighborhood Association meeting

8:00 am

– 10:00 am

Bridgeport Lodge 162 All You Can Eat Breakfast

8:00 am – 10:00 am

Bridgeport Lodge 162 All You Can Eat Breakfast

11:00 am

– 1:00 pm

Hope Team Meeting

1:00 pm

– 5:00 pm

Car Seat Inspection

5:30 pm

– 10:00 pm

Seeds of Hope 22nd Annual Reverse Raffle
December 2023
Monday
Tuesday
Wednesday
Thursday
Friday
Saturday
Sunday

8:00 am

– 10:00 am

Bridgeport Lodge 162 All You Can Eat Breakfast

8:00 am – 10:00 am

Bridgeport Lodge 162 All You Can Eat Breakfast

6:00 pm

– 7:00 pm

Eagledale Neighborhood Association meeting

6:00 pm – 7:00 pm

Eagledale Neighborhood Association meeting

11:00 am

– 1:00 pm

Hope Team Meeting
January 2024
Monday
Tuesday
Wednesday
Thursday
Friday
Saturday
Sunday

6:00 pm

– 7:00 pm

Eagledale Neighborhood Association meeting

6:00 pm – 7:00 pm

Eagledale Neighborhood Association meeting

8:00 am

– 10:00 am

Bridgeport Lodge 162 All You Can Eat Breakfast

8:00 am – 10:00 am

Bridgeport Lodge 162 All You Can Eat Breakfast

11:00 am

– 1:00 pm

Hope Team Meeting
February 2024
Monday
Tuesday
Wednesday
Thursday
Friday
Saturday
Sunday

6:00 pm

– 7:00 pm

Eagledale Neighborhood Association meeting

6:00 pm – 7:00 pm

Eagledale Neighborhood Association meeting

8:00 am

– 10:00 am

Bridgeport Lodge 162 All You Can Eat Breakfast

8:00 am – 10:00 am

Bridgeport Lodge 162 All You Can Eat Breakfast

11:00 am

– 1:00 pm

Hope Team Meeting
March 2024
Monday
Tuesday
Wednesday
Thursday
Friday
Saturday
Sunday

8:00 am

– 10:00 am

Bridgeport Lodge 162 All You Can Eat Breakfast

8:00 am – 10:00 am

Bridgeport Lodge 162 All You Can Eat Breakfast

6:00 pm

– 7:00 pm

Eagledale Neighborhood Association meeting

6:00 pm – 7:00 pm

Eagledale Neighborhood Association meeting

11:00 am

– 1:00 pm

Hope Team Meeting
April 2024
Monday
Tuesday
Wednesday
Thursday
Friday
Saturday
Sunday

6:00 pm

– 7:00 pm

Eagledale Neighborhood Association meeting

6:00 pm – 7:00 pm

Eagledale Neighborhood Association meeting

11:00 am

– 1:00 pm

Hope Team Meeting
May 2024
Monday
Tuesday
Wednesday
Thursday
Friday
Saturday
Sunday

6:00 pm

– 7:00 pm

Eagledale Neighborhood Association meeting

6:00 pm – 7:00 pm

Eagledale Neighborhood Association meeting

11:00 am

– 1:00 pm

Hope Team Meeting
June 2024
Monday
Tuesday
Wednesday
Thursday
Friday
Saturday
Sunday

6:00 pm

– 7:00 pm

Eagledale Neighborhood Association meeting

6:00 pm – 7:00 pm

Eagledale Neighborhood Association meeting

11:00 am

– 1:00 pm

Hope Team Meeting
July 2024
Monday
Tuesday
Wednesday
Thursday
Friday
Saturday
Sunday

6:00 pm

– 7:00 pm

Eagledale Neighborhood Association meeting

6:00 pm – 7:00 pm

Eagledale Neighborhood Association meeting

11:00 am

– 1:00 pm

Hope Team Meeting
August 2024
Monday
Tuesday
Wednesday
Thursday
Friday
Saturday
Sunday

6:00 pm

– 7:00 pm

Eagledale Neighborhood Association meeting

6:00 pm – 7:00 pm

Eagledale Neighborhood Association meeting

11:00 am

– 1:00 pm

Hope Team Meeting